Well it's Wednesday again! Which can only mean one thing! It's Wicked Wednesday time. And as always I am linking up with the gorgeous Em at Brummy Mummy of 2!
This is my last link up for a few weeks as I go off to have a little break and re-design! I have already been working on some bits and I cannot wait to pull it all together. I will be going against the grain a little bit and adding another feature which you don't generally see on parenting blogs. But I'm hoping it all works out the way it does in my brain! I don't know if I will be able to have the whole of October 'off' as I am so desperate to share it all now!!!
Anyway… back to this week's Wicked Wednesday.
I have had a bit of a hard time recently with the school runs, Hayden really doesn't want to walk home which means I have to deal with a serious melt down every time I pick him up, and that seems to be the cue for Ellis to be a little sod! So I decided to pull out the ultimate threat last Friday morning, the Buzz bag with reins attached. Ellis loves the buzz bag, but usually the threat of attaching the reins is enough to make him hold on to the pushchair and stop running off.
He had one chance. And he ran off, so on went the rein attachment. This was the result…for the next 20 minutes. In front of about 100 other mums! And all I could do was chuckle and take pictures!
Consequences little boy!
(He was dressed as a pirate because they had a fancy dress day at pre school that morning. He didn't want to take it off! And has worn the hat at home every day since!)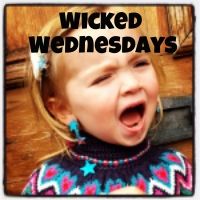 See you all in a few weeks! ( I may still pop over and comment…I never like missing out!)